Halloween is one of my favorite holidays. As a child, I used to dress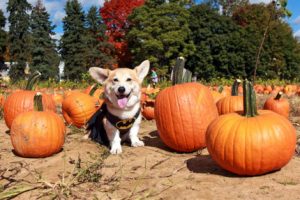 up as my favorite spooky character and trick-or-treat around the neighborhood with my best friends. As a grown-up, I've always loved seeing the neighborhood children come to my door all dressed up. I'm always amazed at how creative children are and how they are able to bring out the child in all of us.
Unfortunately, pets often find Halloween pretty scary. The things that make Halloween fun for people – noses, smells, lots of trick-or-treaters at the door – can often overwhelm many pets. And there are some elements of Halloween that can be particularly dangerous.
Steps to Take to Protect your Pets
The safest thing anyone can do if you're anticipating a busy night, is to put your pets in a quiet room where they will be safe from all the Halloween activity.
Even if you're just having friends over for a party, keep your pets away from the activities in their safe room. Masks and costumes change how people look and smell to a pet, so even familiar friends may become frightening.
If you are planning on taking your kids out trick-or-treating, leave Fido at home. Dogs can easily become overly excited by the Halloween commotion. A bite or a lost dog will quickly end the evening's fun.
Treats and Decorations
Keep treats away from your pets. Place the treats in a high cabinet secured with a child-safety latch. Remember, many foods (such as chocolate, gum, xylitol) are hazardous.
Supervise your children when giving them their treats to consume. You don't want your child to give anything to your dog or cat that might be harmful to their health.
Never leave your pets alone with Halloween decorations.
Some decorations pose threats like lit candles. Other dangerous items might include rubber eyeballs (choking risk), glow sticks, fake blood (possible poisons), fake cobwebs (can choke or entangle pets) and strung lights.
Costumes
There's no question about it, pet costumes are cute. But in all honesty, most pets are happiest just wearing their own fur.
If you do choose a costume, stay away from masks or anything that covers eyes and ears. You also want to stay away from anything that might tangle your pet's legs.
Remove anything that might be chewable that could choke your pet.
Finally, if your pet appears uncomfortable, please take the costume off. Signs of discomfort include folded down ears, eyes rolling back or looking sideways, hunching over or a tucked tail.
Please bring your pets indoors before night falls. In particular, cats are always safest inside with you. (Some people have been known to harm cats on Halloween.) In case your pet escapes, make sure they're wearing a tag with current IDs. Opening the door repeatedly for trick-or-treaters creates plenty of opportunities for escape. At least with proper ID, your pet has a chance to survive.
Halloween is definitely a fun time. Please take the added precautions to keep your pets safe from potential harm.