We've received many questions about our pet sitting services, and we hope you'll find the answers here. 
What is in-home pet sitting?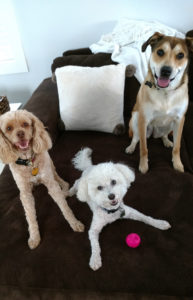 In-home pet sitting is when a professional pet care specialist comes to your home for scheduled visits, and cares for your pet(s) in their own environment. The visits are customized to meet the specific needs and routines of your pet(s). The sitter comes when and as often as you wish. Your home is also cared for with an in-home sitter. We will bring in the mail, newspaper, packages; adjust the TV or radio, alternate lights and blinds, and even water your plants. We give your home a "lived in feel" to deter burglars.
Why should I use a pet sitter rather than board my pet(s)?
Boarding pets can be risky. You risk their comfort, health and social well-being. Just the ride to the boarding facility is stressful for your pet(s), not to mention can be a hassle for you. Having Kisses Happen come to your home is the next best thing to having you there. You also have the added benefit that may be a crime deterrent.
Why should I hire Kisses Happen Pet Sitting and Dog Walking instead of a friend or neighbor?
Friends and neighbors mean well, but sometimes they forget to check on your pets. After a couple of days being gone, sometimes checking on your pets may feel more like an obligation rather than their original intent of extending a favor. Your friend or neighbor might not be able to spend the quality time with your pets that they require while you are gone. At Kisses Happen, pet services and care are what we do for a living. We want to work with your animals and we actually enjoy spending the needed time with them. In fact, you will receive a text along with your pet's picture every time we make a visit.
How do I know if my dog walker or pet sitter was at my home?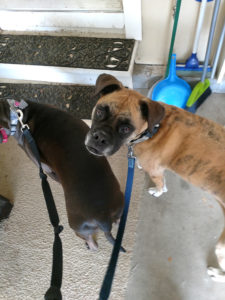 For every visit, you will receive a text along with a picture of your pet(s) with a current update. If you have any questions, you may respond to the text or call us.
How much do your pet services cost?
The cost of pet services is different for each individual pet and their needs. It also depends on what service you need, the number of pets you have and mileage to the job site.
How do I get started?
A consultation is required before we can begin services. The first consultation is complimentary. If you would like an additional consultation, there is a fee of $20. It's best to schedule a week in advance for dog walking and two weeks in advance for pet sitting.
What happens at a consultation?
We will come directly to your home so you can introduce us to your pet(s). You show us the location of the pets' food, supplies and toys. You also go over any special instructions regarding the pet(s) and the dates you'll need the service. Currently, we only require one set of keys. There is a charge of $10 if we need to come back and pickup the keys or drop them off. Please be certain to test the keys to make sure they're working properly. Lock boxes are also fine. For homes with digital locks, we will still need a key for backup purposes in case the digital lock is not functioning properly.
Do you require a minimum number of visits per day for pet sitting?
Yes. For dogs, we require a minimum of two pet sitting visits per day. However, we highly recommend, at least, three visits. For cats, we require at least one visit per day. There are no exceptions. This is for the safety and well-being of your pet.
Can I have someone share pet sitting duties with my friends or family?
The short answer is, yes. However, we require you to sign a release form acknowledging that we will not be held responsible for damaged items or harm to your pet.
Consistency is vital to providing the best possible care. While it's ideal for us to provide all the care during the entire period, we will agree to share the service with whomever you entrust. In addition to the release form, we also require that you provide us with the name and full contact information of the person we will be sharing the care with. We ask that you provide them with ours. They must know that they can contact us 24/7 if they can't fulfill their part of the service. We will, then, take over the entire service immediately.  The best interest of your pet(s) and your home are our utmost concern. Our years of experience have shown us that communication is key to a successful outcome.
What type of animals do you pet sit?
We have had experience caring for dogs, cats, cat hybrids, birds, fish, rabbits, hamsters, guinea pigs, chickens, turtles, frogs, just to name a few. You name it, we will care for it (in most cases).
Do you do pack dog walking?
No. We prefer to spoil your dog(s) only.
What happens if my pet becomes sick or injured?
We are committed to the excellent care of your pet(s). Should your pet become sick or injured, we will follow the procedures that is discussed during our complimentary meet and greet appointment.
I never have time to go to the groomer or vet. Can you help?
Yes! We offer a pet taxi service to take them wherever they need to go. If you have an emergency, we will make every effort to accommodate your needs. If you need someone to stay with your pet(s) while at the Vet's, we will get instructions, meet with the doctor, obtain a written diagnosis, and pick up any required medications.
Does my dog need to be on a leash if he is off-leash trained?
Yes. Although your dog may be off-leash trained, it's our strict policy to always keep your dog(s) on a leash while in our care outside of your home or yard. This will ensure we have control over any unforeseen problems that may arise.
Will my dog be walked in extreme temperatures or weather?
During high temperatures in the summer, walks will be brief. We avoid risking heat exhaustion for our dogs and sitters. During severe thunderstorms, or other severe weather events, we will do all we can to ensure your pet(s) get out for a potty break. We will resume regular walking schedules once the severe weather has passed.
Will you pick up after our pet(s)?
Yes. We will pick up when we take your dog out for their walk. We will also pick up after your pet(s) if they go in your yard while under our care. We also take care of all kitty boxes per visit. If your pet(s) get sick in your home, we will clean up after them. If special cleaning is required, we will contact you for further instructions. If this requires extended time beyond your visit, there may be an additional charge.
What do I do if I'm ready to book service?
You may email us at info@kisseshappen.com, call our office at 615-457-2821 or text us at 615-981-3858.
How and when is payment received?
Payment is due at the start of service. We accept cash, checks, Venmo or PayPal. You will receive a confirmation text or (if preferred) email approximately 2-4 days prior to the start of your service, reminding you of the amount due. If you are paying by Venmo or PayPal, payment is expected by the first day service begins, or shortly thereafter. If you are paying by cash or check, please leave your payment in a central area for pickup like the kitchen counter or a common area inside your home.
Do you accept tips?
Tips are always appreciated.
What is your cancellation policy?
We require a 24-hour notice for all non-holiday cancellations. There is no refund for service that is canceled the same day. However, the remainder of the visits beyond that will be held as a credit for future service. During the holiday period, all cancellations should be made at least one week prior to scheduled service. During the holiday period, last minute cancellations will be subject to a 50% cancellation fee. No refunds will be given for service during the holiday period after the job has been started.
What if I'm dissatisfied with my service?
We encourage you to contact us. We will address any issues, and hopefully rectify whatever problems you may have had.
Do you have a referral program?
Absolutely! Our best advertising is a happy client! If you refer our service to a friend, co-worker or family member, you will receive one free walk or pet sitting session, whichever applies. They must mention your name when they book their service.
For more information about our services, write to us at info@kisseshappen.com or call us on (615) 457-2821 or text us on (615) 981-3858.