Benefits of Pet Sitting
With pet sitting you have a professional sitter come to your home anywhere from 1-4 times a day; or even spend the night with your pet depending upon your preference.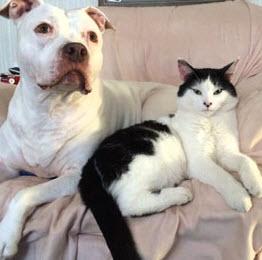 Our services are personalized giving your pet 100% attention to their individualized needs.
Pet sitting allows your dog or cat to stay in a familiar environment, where they feel safe and secure. Smells, sounds and sights are familiar and there are no barking dogs to contend with.
Food, toys, medications and other pet supplies are already in your home. You just tell us where everything is and we'll do the rest. 
Your pet will enjoy having familiar access to their favorite napping spots, toys and potty areas.
There is no competition for attention from other pets inside a foreign facility. Your pet is guaranteed 100% attention from our pet sitter.
Daily walks, play time, and other exercise are included in the price. You're not charged extra for additional services.
Time is money. You don't need to worry about drop off or pick up times.
There's the added benefit of someone looking after your home. Taking out the trash, watering the plants and bring in the mail are all part of the service.
Benefits of Dog Walking
No pack walking. We provide your dog with one-one-one, undivided attention.
Your dog will get that needed potty break in the middle of the day while you work hard to pay for her food and chew toys.
A structured walk each day not only exercises your dog's body but also his mind by giving him a task to focus on.
A walk a day will reduce behavioral problems related to boredom and built-up energy.
Even if your dog is elderly or has physical problems that don't allow for walks, a dog walker can still provide them with a potty break and some much appreciated companionship during the day.
There is less risk of your dog catching any diseases such as Kennel Cough, which is common at Doggy Day Cares.
Doggy Day Cares can be very stressful for the nervous, timid, shy or dominant behaviors.
Your dog will be at less risk of injury with a dog walker. There won't be "rough housing" with other dogs or getting into fights.
Time is money. No need to worry about pick up or drop off times.
Dog Sitting, Dog Walking
Cat Sitting
Sleepovers
Birds, Turtles, Reptiles, Rodents, etc.
Non-Neutured/Spayed Animals
Puppies, Elder Pets
Hotel Visits, In-Home Visits
Taxi
Personalized & Customized Care

West Nashville: West End, Midtown, The Gulch, 12 South, Vanderbilt, Music Row, Belmont, Hillsboro Village, Edgehill, Wedgewood-Houston, Woodland-in-Waverly, Green Hills, Oak Hill, Cherokee, Belle Meade, Bellevue, Green Hills, Sylvan Park, Sylvan Heights, Nashville West, West Meade, Richland, Charlotte, White Bridge.

East Nashville: Downtown, Five Point, Lockeland Springs, Cleveland Park, Historic Edgefield, Shelby Hills, Eastwood, Greenwood, McFerrin Park, East End, Maxwell Heights, Inglewood.

…and All Points In-Between. Call or email us!

Right now, we accept personal checks and Paypal. With Paypal credit, we add convenience charges of $2.9% + $.30. Please click here to pay through PalPal.